Use Solar Energy to Earn a LEED Certification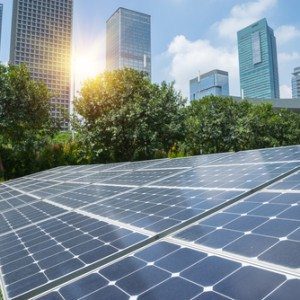 Solar is one of the renewable energy strategies that can earn you LEED certification. Among the various LEED system rating categories, solar falls under the "Energy & Atmosphere" category. By implementing solar power system strategies in your home or business, you stand to gain up to 8 LEED points under the "On-Site Renewable Energy" (EA Credit 5) credit. The number of LEED points earned is dependent on the percentage of energy costs that you have managed to offset through your on-site renewable energy initiatives. The calculation is basically the percentage of energy produced by renewable energy systems compared to the total annual energy cost in your building.
Why Should Your Building Be LEED Certified?
The realization that buildings cause significant environmental degradation has driven construction and other real estate professionals to shoulder the responsibility of mitigating some of the risks. The Leadership in Energy and Environmental Design (LEED) rating system was developed by the United States Green Building Council (USGBC) to provide guidelines that promote the use of renewable resources such as 
solar panel systems
in order to reduce the damage caused to the environment by buildings. LEED certification encourages the use of energy-efficient lighting and HVAC systems, as well as other energy conservation and management efforts that lower the amount of electricity utilized in buildings. Some of the on-site renewable energy technologies that can earn you valuable LEED points include: Solar thermal power systems, solar photovoltaic panels, tidal/wave systems, biogas/biomass systems, geothermal systems, and wind turbines.
The Growth of Solar Energy Systems
The use of solar PV arrays has over the years grown from the basic residential applications to more complex commercial applications. As such, it is commonplace to find solar panel installations in many different types of building structures including office buildings, industrial complexes, government agencies, institutions of learning etc. Implementing solar energy systems goes a long way to achieve some of the goals of LEED such as:
Helping to effectively reduce the level of carbon emissions
Enhancing the quality of air
Eliminating the dependence on non-renewable energy sources
Helping real estate developers to make better building decisions
Benefits of Implementing Solar Power Systems
The benefits of installing 
solar panels
 or any other form of on-site renewable energy in your building do not end with achieving LEED certification only. There are additional benefits of installing solar systems such as:
Reduction of the environmental impact caused by reliance on non-renewable energy sources
You get to enjoy a wide range of incentives from government for implementing renewable energy
A significant drop in power bills since you don't have to rely on electricity from the grid only
You can attract visitors and/or tenants who are environmentally conscious to your building
You can cushion yourself from the ever rising energy bills since the cost of solar energy does not fluctuate
Tags: LEED certification